It is a matter of economics and simplicity. Cobalt Digital IP has its decoder built-in and provides switching for the electrofrog points on board.
Plus it uses standard DCC power to run. If you compare its price to having to have not only slow-motion point motors but decoders as well, it undercuts them on price (and has simpler wiring).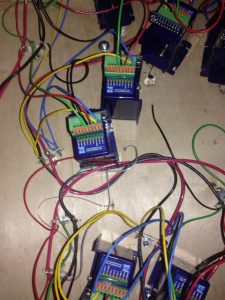 Even compared to old-style solenoids, if you want DCC control, you will need capacitor discharge decoders that talk DCC.
On an individual switch/point the differences are not vast – but I have 150 to do!!
On the horizon, servo motors may given them a run for their money – but as yet, the offerings using servos are less reliable in practice.
So far my experience with Cobalts is – they are easy to install and set up, they are quite forgiving of imperfect alignment wrt to the tie-rods and they just keep ticking.
I always secure them with two of the four provided screws as well as the sticky foam pad they come with.